"FGF brought me back from a very tough place emotionally, and has also made me tougher on the outside. I'll be forever grateful for Farmgirlfit and the amazing women who make it up!"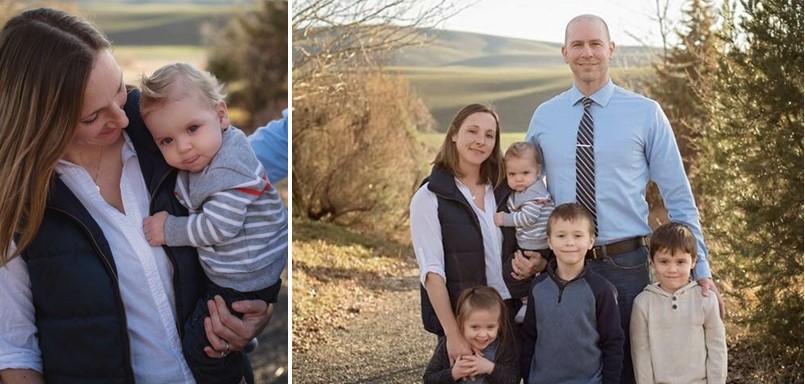 Member Of:
Farmgirlfit Spokane and FGF@Home
Occupation:
Momcologist. Taking time off from teaching Government and Economics, coaching JV Soccer, & Personal Training
Tell us about your fitness journey. How did you come to Farmgirlfit?
I've always considered myself a fairly active person. I played multiple sports growing up, I love the outdoors, and after high school went on to play 4 years of college soccer and ran the 5k and 10k in track. I still love running, playing adult league soccer, and almost any form of competition. I like to have something to train for. My favorite distance is a half marathon, and I love to compete in triathlons. Multiple knee surgeries and various injuries have set me back a few times, but I feel like I'm starting to train smarter. I love feeling strong and seeing improvement in my lifts, as well as the ability to perform different skills at Farmgirlfit. I still have a long way to go, but I'm enjoying the challenge each step of the way.
If you could tell your Farmgirlfit story in 100 words or fewer, how would it read?
Farmgirlfit found me 7 weeks after my 4th c-section, in a very difficult time where I very much needed an outlet. In Dec 2016, we were blind-sided when our youngest was born with High-Risk Acute Lymphoblastic Leukemia. With a very sick newborn, hours from family and home, I needed a way to work-off everything...FGF gave me that. My friend Ellen brought me in for my first workout and I have been hooked ever since. While in Spokane for treatment, I have tried to consistently attend the 5:30am Grind (to start the day off positively) and when home in Moscow, I have done the FGF@Home program through two sessions. FGF brought me back from a very tough place emotionally, and has also made me tougher on the outside. I'll be forever grateful for Farmgirlfit and the amazing women who make it up!
Who/what inspires you to be fit?
Quality of life. I'm a better mom, wife, and human being once I've gotten my workout in.

What has been your greatest fitness/performance accomplishment so far?
Running the Austin Rock and Roll Marathon
What are your next health and fitness goals?
Half Ironman, Spartan Trifecta...and clean up my eating
Favorite workout song?
Till I Collapse – Eminem
Favorite exercise at FGF is? Least favorite?
Favorite: Deadlifts, love/hate working on DUs ⬅️ depends on the day!
Least Favorite: Front Squats
When the Grind is kicking my butt, I'm thinking…
This is exactly why I'm here, and there's only "- - -" much more to go.
My favorite thing about Farmgirlfit is:
The community and the team feel. Whether it is a partner workout, or we are individually finding our 1-rep max on something, everyone is there lifting you up and cheering you on. No matter what anyone's age, ability, or stage in their own fitness journey, the coaches are there to help you improve and the other athletes are there to help you push yourself. It's the best way to start my day!
Do you have a funny Farmgirlfit story, or favorite memory?
This isn't a specific memory, but I love hearing new ladies read through their first Grind skeptically...and then hearing how pumped they are after the hour is done. And then seeing them return. Such a cool thing to witness!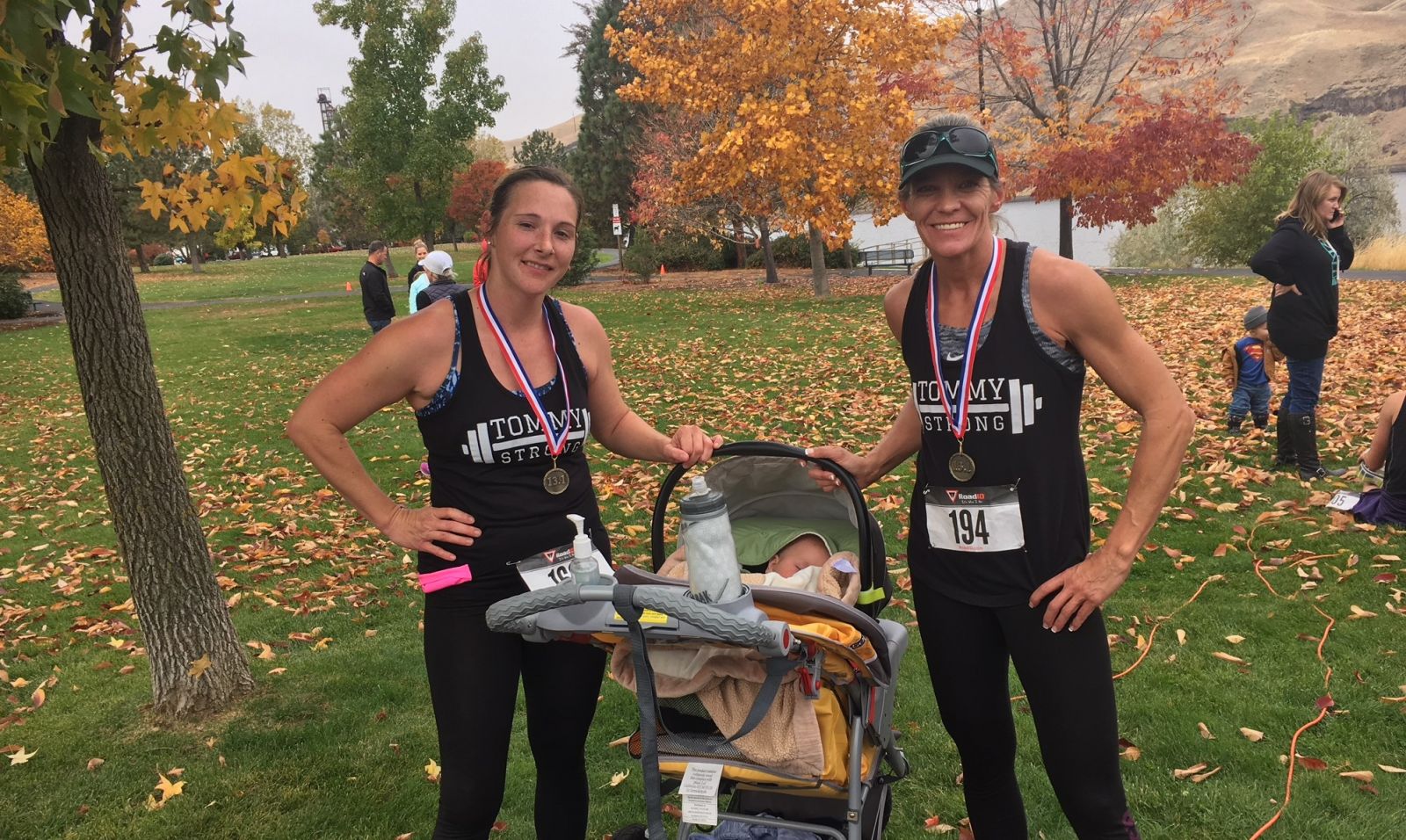 How has the rest of your life been influenced/impacted by Farmgirlfit?
Because of FGF, I feel more confident, I'm stronger, and have seen a reduction in injuries, aches, and pains. I'm a stronger runner and I recover much quicker. The Grind, whether at Farmgirl or as part of the at-home sessions, puts me in a better mood and gives me the confidence to take on the day.
When you're not pumping iron at FGF, what does the rest of your life look like?
When I'm not at FGF, I am spending most of my time at Sacred Heart. Tommy's treatment has lasted 16 months—most of that inpatient—and we have a long way to go. I'm looking forward to the time where he is healthy and I can be home with all my kids and husband in Moscow, but I know I will miss my Farmgirlfit family. Once home, I plan on sticking with the at-home sessions, as it'll keep me linked with this awesome community of women...and kick my butt in the process.
You can follow Tommy's journey on our Caring Bridge site: https://www.caringbridge.org/visit/lovethomasharner
And, if you feel so inclined, you can order your own Tommy Strong shirts here: https://teespring.com/tommy-strong-ALL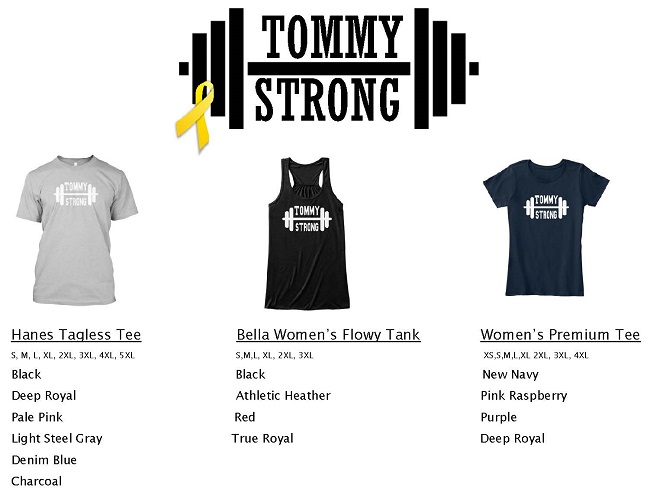 You might not know this about me:
I'm working on a program to give kids in the PICU and Peds Onc at Sacred Heart Children's Hospital homemade soft or crocheted toys. We are calling it "The Be Strong Project," and have made almost a hundred toys to donate so far. ❤️ Check out our Facebook group HERE.
Words that inspire me?
Joshua 1:9 "Be strong and courageous. Do not be afraid, for the Lord the God is with you wherever you may go."
Stronger than yesterday.
Guilty pleasure:
My post-workout Thomas Hammer sugar-free hazelnut latte with almond milk and an extra shot. I start craving it before I've even hopped in my car.
Any advice for new members or your fellow farmgirls?
Go for it. It's hard walking into a new place and being the new person, but I think it's even harder on yourself to not take that chance. You are worth it and you definitely won't regret it.
Anything else to share?
I can't express how grateful I am to have been introduced to Farmgirlfit. It has changed my life for the better, and I'm a stronger, healthier person for it. I'm so grateful to the amazing owners, coaches, and teammates I have met. Thank you thank you thank you! And also, please open one in Seattle soon 😊 we'll be heading over for more treatment for Tommy.