Member at:
Farmgirlfit Cd'A
Occupation:
HR Representative
Tell us about your fitness journey. How did you come to Farmgirlfit?
I've always been somewhat active. I first experienced FGF through a Lululemon promo event in Spokane, 2 years ago. I drove all by myself over to Spokane to check it out. Growing up on a farm when I was little, the name Farmgirlfit drew me in! After that first class, I was excited – but I couldn't justify driving to Spokane to workout. When it was announced that FGF was coming to CdA, I knew I was in immediately! I signed up at my first class and haven't regretted it since!
Who/what inspires you to be fit?
My health is my #1 priority
What has been your greatest fitness/performance accomplishment so far?
Running a half marathon! Had never considered it, until I did. Now I have run 3!
What are your next health and fitness goals?
Continue to stay active and sign up for new challenges, I am doing the Coeur d'Fondo – 47 miles.
Favorite exercise at FGF is:
Most kettlebell movements and the PLANK!
Least favorite exercise at FGF is:
Box jumps – my mind slows me down, I have to think about the box every time I jump.
Favorite workout song?
Any upbeat one, I hear it when it starts, but once The Grind starts, my mind goes elsewhere.
My favorite thing about Farmgirlfit is:
Camaraderie of all the girls, I have met so many new friends that motivate me and challenge me to go further.
Do you have a funny Farmgirlfit story?
During January, FGF ran a BOGO promotion (Bring One, Get One) – bring a friend and get 1 month free. After class I was on my way out and Jeni D. was at the counter signing a girl up (Jacque Walker). Jeni D. says "Brittany is your new friend; Brittany you get 1 month free from Jacque signing up today." Since that day Jacque and I truly have been great friends – FGF made the connection!
How has the rest of your life been impacted by Farmgirlfit?
Well, besides the new friends, I have felt great and can really tell a difference in my body after attending FGF Cd'A since it opened – muscles are toned and my endurance has increased.
When you're not pumping iron at FGF, what does the rest of your life look like?
Constantly moving, between a full time job, husband, two girls (8 and 5), a dog, and two cats, there is always something happening!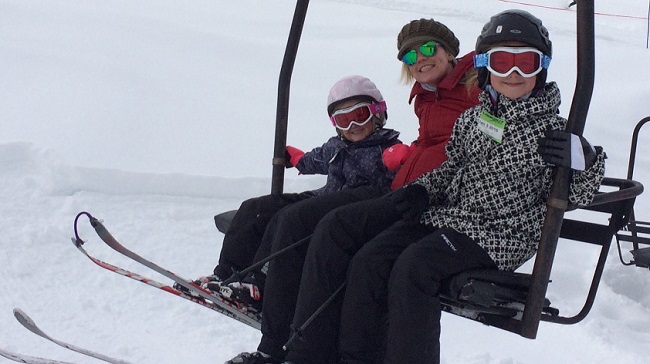 You might not know this about me:
I am a Melanoma Skin Cancer Survivor
Team I'm always rooting for:
Nebraska Huskers
My happy place is:
My bed :) or walking/hiking in the woods.
Guilty pleasure:
Chocolate & wine…especially together! :)
Any advice for new members or your fellow farmgirls?
Have fun and keep going! Some days it will feel hard, but this is the best thing you can do for your mind and body.