Meet Amy and Julie. Around here, they're pretty much a package deal. Julie says, "Going to Farmgirlfit with my buddy Amy has been life changing for me, both physically and emotionally! Not only am I stronger, with fewer old-lady aches and pains, I can also say that my workouts improve my outlook on life too."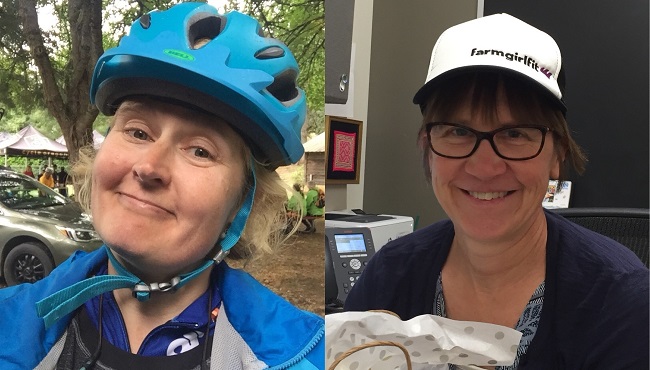 Members Of:
Farmgirlfit Spokane
Occupation:
Amy: Psychiatrist, mother of two, wife of an entrepreneur.
Tell us about your fitness journey. How did you come to Farmgirlfit?
Amy: Julie and I are co-workers and friends. Our work friends talked us into trying FGF. Julie and I tested the waters together and were a little intimidated by the youthful strength of the ladies. I wanted to maintain my strength, balance and bone density as I age. I know how to cardio, but had no clue how to focus on strength training. I've really noticed an improvement in my strength and balance. I can skate ski better than ever and don't shy away from unloading Costco trips and lugging huge bags of chicken and dog feed.
If you could tell your Farmgirlfit story in 100 words or fewer, how would it read?
Julie: I knew it was time to start taking care of myself so that I could keep up with my 10 grandkids, ages 0-7. Going to Farmgirlfit with my buddy Amy has been life changing for me, both physically and emotionally! Not only am I stronger, with fewer old-lady aches and pains, I can also say that my workouts improve my outlook on life too.
Amy: When we first started, Julie and I were a little intimidated by the strength of the younger ladies. I was a little surprised they let Julie and I join. Everyone is so cool. In all seriousness, we would watch the girls in awe as they would climb ropes, lift, and do pull-ups. I never thought I would be able to do any of those things. I was scared of hurting myself. I'm still working on my pull-ups, but I can't believe how far I've come. I'm now consistently doing, Level 2 Grinds, and super proud to share a gym with such strong women.
What has been your greatest fitness/performance accomplishment so far?
Amy: Being able to climb a rope, 20 inch box jump (with Julie's help/support).
Julie: Last Friday I did a 20 inch box jump FOR THE FIRST TIME!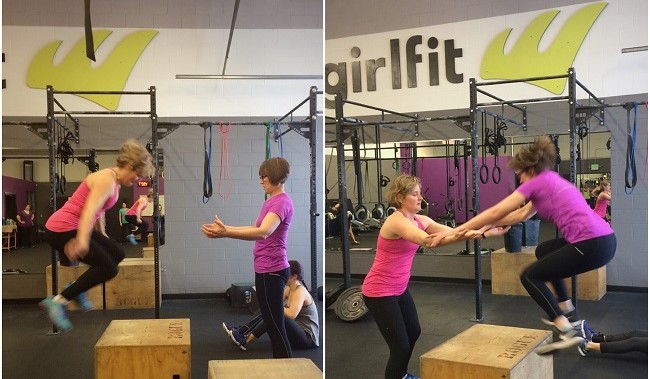 What are your next health and fitness goals?
Amy: Keep showing up and having fun. Turns out that is all I have to do to get stronger. The trainers do the rest.
Julie: Amy and I decided we're going to do all Level 2 Grinds for 2017!
Favorite exercise at FGF is? Least favorite?
Amy: Box jump now that I can do it; pull-ups are really hard for me.
Julie: Favorite: Cousins; Least Favorite: Having to leave FGF
My favorite thing about Farmgirlfit is:
Amy: Watching Julie do sit ups in her underwear (she pulls her pants down when the zipper pocket rubs). Good thing my pelvic floor is stronger now, or I would pee my pants!
Julie: (things) are the experienced staff that know how to keep me on track, while making me feel like I am totally awesome at the same time (even when my time is the slowest of the whole class). I also love going with my buddy Amy, who keeps me motivated.
Do you have a funny Farmgirlfit story, or favorite memory?
Turns out…surprise…it's the SAME story. Let's hear them each tell it!
Amy: During the pull-up challenge, I came in early before work to get in a few pull-ups. I was wearing my dress clothes and didn't bother to change. My friend talked me into trying to kip with a band. I got a band crotch snap instead. I found myself hanging by my crotch in my dress clothes in front of a class of women I didn't know. The coach was kind enough to help me extricate myself thankfully. I was laughing so hard and I'm not sure my friend wanted to acknowledge that she knew me.
Julie: My favorite story is when my buddy Amy was coming in to do her pull-ups during the October pull-up challenge. She was doing assisted pull-ups with a green stretchie band, in her business attire, when suddenly the band slipped off her foot and landed smack in between her legs, leaving her hanging with a crotch full of stretchie band. This was in front of the whole 0630 am class, who witnessed the curious spectacle.
How has the rest of your life been influenced/impacted by Farmgirlfit?
Amy: This winter I had to move huge pieces of ice off a roof while standing on a ladder by myself. I'm confident I couldn't have got it done without FGF. I didn't even hurt myself or feel sore. Heeey-o!!!
Julie: I honestly believe that my quality of life has greatly improved. My body feels better. FGF has changed my outlook on life. I can shovel all the snow off my sidewalk without hurting for the rest of the day. I can easily carry around a 20lb+ grandbaby. I also love seeing my fellow FGF peeps around town.
When you're not pumping iron at FGF, what does the rest of your life look like?
Amy: Crazy. It's embarrassingly busy, but so rewarding I don't want to change a thing. For example, one time I gave an interview over the phone while running around the FGF block!! A girl has to have priorities.
Julie: I keep busy with balancing a career, graduate school, being a mom and grandma, and spending time with my dog Buster.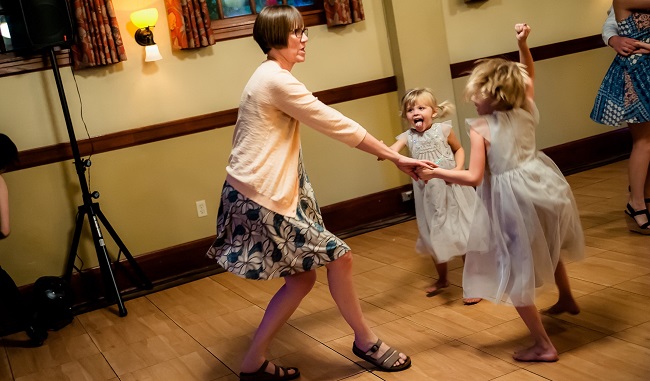 You might not know this about me:
Julie: I hiked the Grand Canyon, rim to rim.
As a kid I dreamt I would grow up to be:
Amy: An aerobics instructor.
I'm proud…
Julie: that I can jump rope now.
Any advice for new members or your fellow farmgirls?
Julie: New members: Don't worry…we were all new at this at one time or another. Relax and have fun!
Amy: Don't be intimidated—everyone is very nice. I've never felt judged.