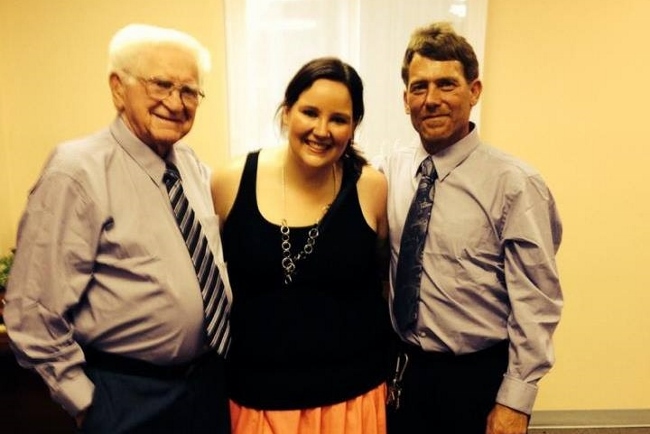 Name and age: Alicia Dickson, 24
Occupation: Promotions Assistant at Radio Spokane
Member at: Farmgirlfit Spokane
Tell us about your fitness journey.
All my life I have struggled with my weight, and have been very insecure about it. I have tried all the latest trends and some worked for a while and some didn't. It wasn't until about a year ago I decided I wanted to lose weight for myself rather than for the people that are around me. I tried a few more of those latest trends and then I just realized that it's a journey that I'm about to start. I wanted to do it the right way, a way that once I hit my goal weight (and I know I will) I have the confidence I won't be gaining it back because I have chosen to change my lifestyle rather than the other way around. I know that this journey is going to be a long and bumpy one but I've never felt so much determination to prove to all the people that may have looked past me or made me feel bad about eating that extra breadstick. For all those that have, just wait because I'm just getting started!
If you could tell your Farmgirlfit story in 100 words or less, how would it read?
I'm still pretty new to the Farmgirlfit family, I joined in April/May of this year. I was looking for a place where I felt comfortable working and where I could have a coach help me get the most out of a workout. When I went to my first visit, I remember thinking "Oh boy what did I get myself into?" I was nervous, and thought I'm going to stick out like a sore thumb but something happened that evening. All the other women working out, they didn't know me but they pushed me, congratulated, and praised me. I have never felt like that after leaving a gym. It was like having your own cheerleaders as you work out. Words cannot express and explain Farmgirlfit. You just have to join to understand it and feel the community. I am still getting to know all the awesome women that attend the gym and the coaches, but I have never felt more confident at gym before and want to continue!
What has been your greatest fitness (performance) accomplishment so far? Do you have a performance goal?
About a month ago I hit that 20 pound mark! For a while, I couldn't get passed the 10 pound number and I would get discouraged and say to myself "I'll never get there." But then I stepped on the scale and saw that I had lost 20 pounds. That moment will keep my motivation going on my journey. I thought I could do anything that day, and I feel so beautiful. I can't wait to have that feeling daily. For a performance goal, I can't wait to be able to do double unders or pull ups with the bands. Whenever those are on the grind, I am envious of the girls that can do either.
How has FGF helped you become more healthy / When it comes to your health, what goals do you have?
FGF has helped me become healthier day-to-day, especially with my diet. I did the sugar freedom challenge when I started. This girl loves her sweets, so I never thought I would be able to go without sugar. Sure enough though I pushed passed the mental and swapped sugar with either a healthier option or went and did something to get my mind off of it. I'm now able to live without that Dr. Pepper or the sugary coffee drink that I'd had a bit too regularly. I still have those cheat days or I treat myself if I am really craving it, but I'm more aware of portion sizes and realize that piece of candy was so good for a split second but in the long run I didn't need it. One of my goals will be able to cook! I want to learn how to do different healthy recipes with chicken or turkey. Sometimes you just need to change up the diet or you get bored!
My favorite exercise at FGF is:
I don't think I have an all-time favorite exercise at FGF, yet I do like when we are lifting weights in our Grinds because it's an instant gratification. I am able to add on more weight, then perform a deadlift or squat, and feel pretty B.A. after. My favorite grinds at FGF are AMRAPs or TABATAs. I'm able to push myself each round and then push through the next round. It makes the workout fun, faster, and keeps you on your toes.
My least favorite exercise at FGF is:
Planks! My elbows hurt days afterwards. I am also not a fan of running but have made it a goal of mine that by next year I'm going to love it (OK - like it). When I was able to run 400 meters without stopping I was so proud of myself and I can't wait to be able to do that with a mile!
My favorite thing about Farmgirlfit is:
The members and coaches absolutely! The coaches care so much and are so encouraging. They are our cheerleaders, teachers, and friends. I couldn't ask for better coaches to teach me about a healthy lifestyle. The members are just the same, the women are so welcoming and supportive. We all look out for each other, push one another, praise each other, and are happy to see someone who has been busy and missed a workout. I couldn't ask for a better place to call my gym.
How have you integrated the Farmgirlfit mission outside of the gym?
I have always been a pretty positive person, but since I've started working out at Farmgirlfit I have become even more positive and optimistic about life. I have been able to distance myself from negativity or at least try to. Overall just being a happy person, I think being able to work out and know that after each workout I'm improving. I believe in myself; I tell myself I have the strength to do this and for the first time I actually believe it. I can't wait to see where I'll be in a year from now!
When you're not pumping iron at FGF, what does the rest of your life look like?
Lately my life has been pretty awesome, but when I'm not at FGF pumping that iron I'm working at the radio station. I really enjoy where I work and the people there so I never hate getting up and going to work. I'm a huge fan of music and concerts so I can promise you that if there is a concert near I'm most likely at it. I really enjoy hanging out with friends and family living life to the fullest. Why waste a day when you can be doing something with that day! I love traveling, and can't wait to do more of it as I get older. Soon I will be going back to school to continue my education and help me grow with my position at work. I grew up with brothers, so football and sports are pretty big in my life. So I'm pretty excited the football season has just started.
Any advice for new members, or your fellow Farmgirls?
If I can do it, you sure as heck can too! Yes you will be nervous, feel awkward, and probably think at one point that you can't do it, but I can promise you that you can. Just sign up and start getting involved and you will be able to experience Farmgirlfit because it's not just a gym or a family but an experience. Don't give up, just take one rep at a time and soon you will love it!
---
To stay in the loop, subscribe to FGF Stories & Info.