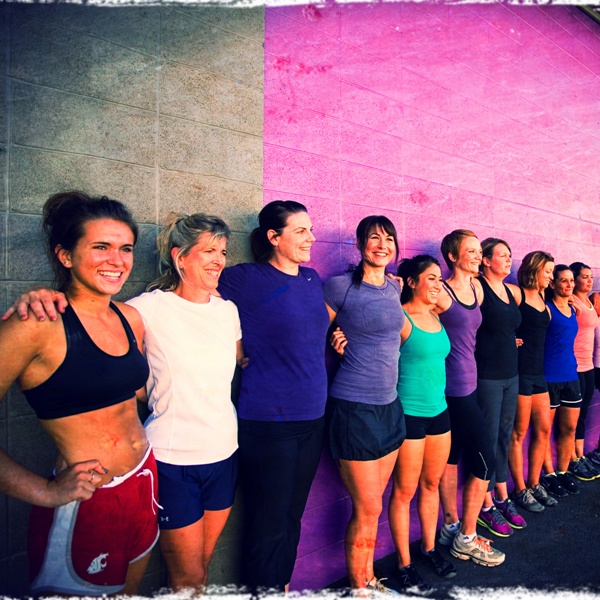 What Farmgirlfit Is All About
By Leah Sottile Preston
I'll never forget the first time I walked into Farmgirlfit.
The night before, I'd pulled out workout clothes from boxes packed away in my basement and dug out the running shoes I'd bought but never worn. I was nervous. After years of immersing myself in my career and having way too much fun, I knew getting in shape was not going to be easy.
When I got to the gym and saw women doing pull-ups and lifting enormous weights, I decided to just sit on the side and watch. I was sure that if I got out there, that would be it. I'd die of embarrassment. They'd laugh me out of the gym.
Instead, some gal that day — I'm not sure who she is, but I'd love to thank her — came up to me after she finished her workout and told me that I could do this. That when she joined, she was scared, too. And that every time she punched in at Farmgirlfit and gave it a shot, she was so proud of what she could accomplish. She was stronger. She was confident.
That's what I wanted. I wanted more from my gym: not a bunch of machines that I didn't understand and that I'd never see results from. And even more, I wanted to feel like I had a team of people cheering for me and really giving me the tools I needed to see the results I wanted.
I joined in February 2012, and have taken so much pleasure in surprising myself. I'm surprised I actually wake up at 6 am to go to Farmgirlfit. I'm surprised that I could lose 15 pounds. And I'm surprised each and every time I get my chin above the pull-up bar. For the first time in my life, I don't feel like I'm that kid on the sidelines anymore. I'm stronger, faster and healthier — and I can't wait to see how far I can go.
Farmgirlfit isn't just a different gym — it's a sanctuary, an escape, a place meant for women, run by women who want to see other women achieve their goals. It's not Curves. It's not Oz Fitness. Farmgirlfit is its own thing. Why hadn't I found anything like it before?
I asked Jenni Niemann, who opened the gym in 2011 and who is often the one teaching me how to deadlift at 6 am, what it is that makes Farmgirlfit so different than those gyms I'd been throwing money at for years.
"We are all about making fitness a priority in daily life — not a chore that you dread — rather than an afterthought or a seasonal thing that you do to try to look better in a swim suit," she says. "We want women to understand how important fitness is and how it translates to all other areas of life."
At Farmgirlfit, that happens by working together, but at everyone's own level. Workouts are broken into four levels catering to everyone's fitness ability.
"We program our workouts specifically with women in mind," Niemann says. That means there's equipment meant for women there: 35-pound Bella bars, kettle bells, etc.
But Farmgirlfit is also a little bit personal training, and a little bit gym class. "Personal training in a group environments," she says.
"[We] don't sell out to fitness trends — specific machines, Zumba, body pump, Barre (ballet) classes — but encourage a well-rounded, fit woman. Not just good at one thing (like running), but able to run, jump, lift, and move faster than most. We strive to be very capable and strong. Confident in her ability to tackle any daily task or obstacle at any age."
"Working hard, or past your comfort zone (as opposed to a woman on a stair stepper, reading an US magazine) makes for a more mentally and physically strong person," she says.
Below, you'll read the testimonials from members like me — local women who feel a spark by being a part of Farmgirlfit. And you can just feel that in their words. They're proud members. And though we're all there for different reasons, together — sometimes at 6 am, panting over some kettlebells and rowing machines — we're all helping each other work toward the same goals.
MICHELLE CLARK – AGE 27
"The beautiful thing is that it brings women together to encourage and strengthen each other not only physically but in life as well. The other thing I love is that it pushes me to do more. Ever since my athletic career was over I always felt like I needed a push, a jumpstart to get me back on the workout trail and stay on the workout trail!"
JENI DAVAZ – AGE 39
"The trainers lead by example, inspire through words and actions, and push us hard. I'm a mom of 2 and almost 40. Jenni and Jaunessa have whipped this mom body into shape. When I started I could do pull-ups with the 'big band,' but I could not do one pull-up unassisted. Last week I did 18 pull-ups in a row with no bands. My goal is to do a muscle up on the rings. I'm close!"
PAULA NORDGAARDEN – AGE 62
"I love all the encouragement I get as I complete each Grind. [I'm] growing stronger and healthier every day. So far I've lost 30 pounds and decreased my triglycerides by 150 points. I have been able to go off medications for high blood pressure and high cholesterol."
CASEY GOSSARD
"If I had to pick a favorite thing about Farmgirlfit, I'd say it's the people. Hands down. FGF is full of strong, intelligent, driven women. It's crazy inspirational to watch beautiful women work so hard to get what they want. I find it motivating and it gives me a sense of pride to belong here.
I was an athlete when I was younger, and after sitting behind a desk for five or so years I'd resigned myself to the idea that I would never be as fit as I was then. In fact, I'd kind of given up on being active altogether. FGF is exactly the environment I needed to change that. After about 5 months, this is what FGF means to me:
1. I have a sense of confidence that comes from knowing how gosh darn HARD I work.
2. I can fit back into shorts that I put in a "yeah-right" drawer a few years ago.
3. I'm giving myself the best possible chance at having an awesome life. I'll be a strong healthy sister, and someday mom and grandma. This makes me smile."
LINDSEY TRIBBETT – AGE 27
"I call FGF my obsession! I can't get enough. If I could, I would go everyday! My favorite thing about FGF is being pushed to a limit I didn't know existed. It's a feeling that you want to stop whatever exercise that you're doing but you know you can do more and you do...do more!
I also love the sense of togetherness. Working out with such amazing women and watching everybody's different journey of fitness makes being a member rewarding. We push each other to that next level and sweat hard together; I have never felt that way in any other work out atmosphere."
KATELYN LUDLOW – AGE 24
"I feel stronger now than I ever have and recently moving to Spokane, it has been a great way to meet other wonderful ladies who enjoy being active. One thing that has surprised me the most about my membership with FGF is even with being an athlete most of my life, I don't think I've ever been as inspired to get my tush to the gym and am excited when I get there!"
TAHLIA RUBIN-BAECHLER – AGE 27
"I do not have one favorite thing about Farmgirlfit; I love all it encompasses. For the first time since body image became important to me (around age 13 and I am now 27) I feel confident and comfortable just being me. I have tried joining sports teams, numerous gyms, making rewards, charts, and new years resolutions but none of them have ever worked. After 9 months training with Jenni I still see monthly changes in my body, endurance, and mentality. I am addicted to Farmgirlfit.
My circulation is better; I sleep better at night; my diet has improved as I crave healthy foods; my endurance gardening, walking the dogs, and just generally throughout the day is better. I am so impressed with what I can do and what all the other amazing women at the gym are capable of. I have met many great women who inspire and motivate me to push myself and do my best. I LOVE FARMGIRLFIT and am proud to be a member."
Leah Preston is a Spokane based writer and journalist, and will be contributing content to FarmgirlStrong.