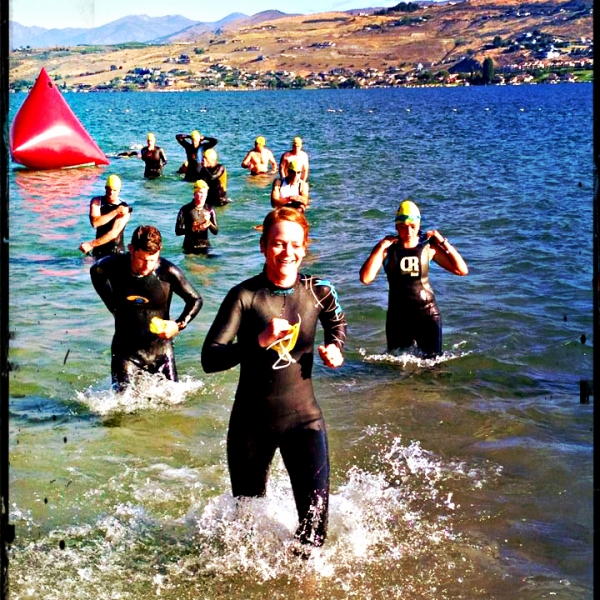 When Farmgirlfit trainer Jeni Davaz competed in her first triathlon, she knew that she'd be a triathlete for life — even if it wasn't easy.
"After nearly drowning, racing on a mountain bike, and feeling like I was running with cinder block shoes, I knew I was hooked," she says.
Today, Davaz has competed in 17 triathlons, and continues to maintain her addiction to the three-part races.

What Triathlons are Like
For those who have yet to immerse themselves in this sport, you should know that there are a few types of "tris":
Sprint distance: 1/2 mile swim, 12 mile bike ride, 3.1 mile run
Standard (sometimes called Olympic distance): 1 mile swim, 25 mile bike ride, 6.2 mile run
Half-Ironman distance: 1.2 mile swim, 56 mile bike ride, 13.1 mile run
Ironman distance: 2.4 mile swim, 112 mile bike ride, 26.2 mile run
The Inland Northwest is home to several triathlons — from the sprint-length Valley Girl Triathlon in Liberty Lake, to the globally-known Coeur d'Alene Ironman.
Davaz says that she started running seriously in 2007 ("My experience with running was limited to running around the bases in softball and running after my kids," she says.), and was talked into doing her first triathlon by friends who had signed up for the Valley Girl race. Once she finished one, she found it was a perfect fit for her to achieve the fitness goals she had.
"I'm competitive in nature, but I'm really competing against me," she says. "I think that people compete in tris for a lot of reasons: health, camaraderie, competition, it challenges you wherever you are fitness wise, and it is an absolute blast!"
"Also, I must admit that the thought of turning 40 scared the daylights out of me. When I turned 35 my long-term goal was to be in the best shape of my life when I turned 40. Triathlons seemed like a great way to achieve this goal."
Farmgirlfit trainer Jenni Niemann, who has also competed in triathlons herself, says that triathlons are often so much more than just a race to the finish.
"There is such a sense of accomplishment when you finish a triathlon. It might be associated with having three different challenges that makes it feel like you've done so much," she says. "You are competing in such a large, diverse group of people. Some are there to enjoy the sunshine and support a great cause while others have worked hard for the past year to attain their specific goals and are all business. Then there is everyone in between! No matter where you fall, it's a great experience and something that anyone can achieve."
"At Valley Girl this year, I watched an 81 year old woman transition from swimming to biking with a huge smile on her face," she says.
Davaz admits the idea of competing in a triathlon was, at first, very intimidating.
"When I started triathlons I was most nervous for the swim. I'd had plenty of swimming time in pools and lakes growing up, but I realized, as my first race was starting, that this was a whole different type of swimming," she says. "I came out of the water from my first tri looking like I'd run three back to back marathons."
But that was quickly something Davaz overcame after taking swimming lessons:
"After lessons, lots of hours in a pool and a lake, and learning how to be calm and find peace in the water, it is my favorite part of the race," she says.
"My biggest challenge now is finding that mental toughness and determination that is needed for the run. During my last race, I thought of it as a Daily Grind at Farmgirlfit. I was counting my strides like they were reps of a workout. I pictured my name and time being written on the board at Farmgirlfit for all the girls to see," Davaz says.
Training
Niemann says Farmgirlfit workouts can help anyone train for a triathlon. "More and more triathletes are incorporating strength and conditioning workouts into their traditional endurance training because they see an increase in core strength, speed, flexibility and greater overall physical capacity."
People are beginning to understand that the 'old school' way of triathlon training; covering miles and miles of distance (volume) can have negative effects on your body. Some people may find that they plateau with long distance swimming, running and biking and that they are not necessarily getting faster.
"Yes, you may have just logged a 20 mile bike ride and a 10 mile run, but at what speed?" Niemann questions, and notes that "it can be very hard to increase your performance on these endurance exercises when you're not considering strength and power."
Overuse injuries are another issue commonly seen in pure endurance training. Many people also deal with boredom. Niemanns says "it's important to do the longer distances to wrap your head around the pure time requirement and mental capacity it will require, but you should incorporate more dynamic exercises into your regimen in order to stay motivated."
All three triathlon exercises, swimming, biking and running require core strength and midline stability. Muscles make you sleeker in the water, help you maintain a good position on the bike, and make you a more efficient runner.
"The workouts that we do at Farmgirlfit focus on increasing your overall physical conditioning, and improve your overall strength and power, which translate to any sport. Our workouts may only last 30 minutes to 1 hour, but within that time you will be likely to complete many explosive movements that are increasing your foundation or core strength without compromising your ability to do long-distance running or biking", Niemann says. Thus, these shorter and more intense workouts actually add to "traditional" triathlon training, rather than take away from it.
Davaz has noticed Farmgirlfit workouts benefitting her directly on the racecourse.
"All of the work we do at Farmgirlfit benefits me in my triathlons in some way: flexibility (on the bike especially), strong cardio base, explosive power to sprint and climb hills on the bike and run, and most of all the knowledge that I can keep going even when it hurts," she says.
Tri-Tips from a Triathlete
After completing so many triathlons, Davaz gave a few tips for training for your first tri:
"Get out there and swim, bike, run! Even if it's slow, you're going further than the person who's not out there trying. I also highly encourage you to ride then run immediately (even if it's only a 200 meter run) every time you hop off your bike. This type of workout is called a 'brick' for a reason. Your legs are heavy and they feel like they are not your legs.
"The best training tip I can give? Find a friend! If I didn't have training partners who were willing to get up at 5 AM to ride you can bet I would stay in bed! We push each other and cheer each other on. Get a training partner and make your goal of doing a triathlon public knowledge."
"Don't ever try something new on race day!!!!! Whatever you train with is what you should race with! When I first started I bought a new shirt because it was cute, and found out during the race that the material was too stretchy and it acted like a parachute in the water. I've tried new goggles...well, you can probably imagine why you shouldn't do that! Don't change up your outfit, your socks, your hat or glasses, your bike, your dinner or breakfast, or what you hydrate with."
What You'll Need
New gear isn't essential, says Davaz – but she suggests some of the gear you'll need in your first tri: "A bike, any bike, will do for now! My first race was on a mountain bike, my second two were on borrowed bikes that really didn't fit, and my 4th race I rented a bike."
First time triathletes will need: a bike and helmet, running shoes, goggles, sunglasses for the bike and run, and something to swim in.
"As you get more involved you can buy tri shorts, race belts, a road/tri bike, clipless pedals/shoes, watches, and GPS for the bike and run. This sport can be as cheap or as expensive as you make it," she says.
Ready, Set, Go!
If you've always wanted to complete a triathlon, there are several to choose from locally: