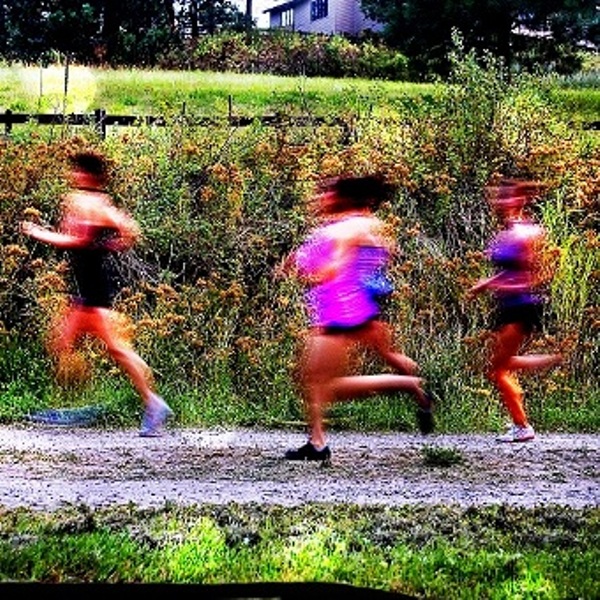 Alright ladies, it's time to get endurancified! We have programmed and planned endurance training to be included with your regular Farmgirlfit membership. Our goal is to offer this program as a supplement to the normal Grind schedule to help you realize that you truly can enjoy running, biking, and swimming! The best way to get better at something is to 1) Learn how to do the task properly 2) Practice it - we've conveniently set it into your tight weekly schedule 3) Stay motivated – you'll be with an awesome group of like-minded ladies, and there will be rewards!
Here's the Deal...
Our stance on endurance training stems from the research and understanding that you don't necessarily have to log a million road hours to increase your stamina. Brian MacKenzie, author of Power Speed ENDURANCE: A Skill-Based Approach to Endurance Training, is the inspiration behind Farmgirlfit Endurance Training. MacKenzie believes that the best way to train for longer races involves a "focus on eliminating unnecessary volume of training while increasing intensity." Farmgirlfit Endurance Training will, like MacKenzie's programming, be "structured, sport-specific and seamlessly integrated with Olympic lifts, powerlifting, gymnastics movements, explosive activity and mobility-based support."
The goal of Farmgirlfit Endurance Training is to create a more sustainable training regimen for your endurance sports. By increasing your power and speed through the Grind, we aim to decrease recovery time, reduce injury, and promote the preservation of lean tissue.
We also understand that everyone is coming from a different performance or fitness level. Just as we level our Grinds, we will provide levels and goals that may be achieved according to each individual.
Essentially, we will begin with a focus on running form and understanding the mechanics. On the weekends we'll have a scheduled run, bike, duathon, or swim beginning in May and ending in August. We'll track your progress and guide you along the way!
The Plan:
The only changes to our programming will be the addition of one endurance-focused Grind and one planned sport specific work-out (i.e. run, bike, swim) per week. Doing just these two workouts, however, will NOT necessarily increase your endurance. To maximize the benefits of this training, your training should consist of 4 Grind workouts and 2 sport-specific workouts. At a minimum, we recommend getting in 3 Grind workouts per week and at least one sport-specific workout. We will provide you with more endurance-focused Grinds as well as scheduled sport-specific workouts (on the weekends). Depending on your FGF schedule, however, you may have homework! We will answer your questions and give more details at a meeting on Sunday, April 28th at 2:00 pm.
We would like you to establish a baseline run so that we can evaluate your progress. For the baseline, we'd like you to run the Bloomsday course. If you haven't already signed up, please sign up here Bloomsday Registration or pick a day and run the course on your own!
The Schedule: May-August
| | | | |
| --- | --- | --- | --- |
| Date | Time | Location | What We're Doing |
| 5/4/13 | 11:30 am | Farmgirlfit | Running form and mechanics |
| 5/5/13 | 9:00 am | Downtown | Bloomsday – Make this your baseline! |
| 5/12/13 | 7:00 am | Manito Park | Short Run and Resistance Running |
| 5/19/13 | 7:00 am | Fish Lake Trail | Bike |
| 5/19/13 | 7:00 am | Mirabeau Park | Windermere Half or Full Marathon |
| 5/26/13 | 7:00 am | Farmgirlfit | 3-5 Mile Run |
| 6/2/13 | 7:00 am | Centennial Trail | Pacing Runs |
| 6/9/13 | 10:30 am | Perry District | Sprints and Stairs - Pizza after! |
| 6/15/13 | 8:30 am | Spokane County Raceway | Color Me Rad 5kTeam: Farmgirlfit |
| 6/22/13 | 8:00 am | Spokane County Raceway | Muddy Mama 5kTeam: Farmgirlfit |
| 6/23/13 | Early! J | CdA & Libery Lake | Ironman Viewing & Liberty Lake Swim |
| 6/30/13 | 7:00 am | SCC Track | Track Run |
| 7/7/13 | 7:00 am | Liberty Lake | Duathon – Bike and Run |
| 7/13/13 | Noon | Riverside State Park | Dirty Dash 5kTeam: Farmgirlfit |
| 7/14/13 | Varied Heats | Liberty Lake | Valley Girl Triathalon |
| 7/21/13 | 7:00 am | TBA | Long Run – 10 miles |
| 7/27/13 | 11:30 am | Farmgirlfit | Short Run |
| 7/28/13 | Varied Heats | Coeur d'Alene | Race the River Sprint Tri – Registration still available |
| 8/4/13 | 7:00 am | Downtown | Re-do Baseline Run (Bloomsday Course) |
| 8/10/13 | | Vancouver, BC | SeaWheeze Half Marathon |
| 8/18/13 | Varied Heats | Medical Lake | Wunder Woman Tri – Registration still available |
| 8/18/13 | 9:00 am | TBA | Trail Run |
| 8/25/13 | TBA | TBA | Swim |
| 8/31/13 | Varied Start | Farmgirlfit | FINALE: Multi-distance run & BBQ |