Introducing another of our Farmgirlfit Cd'A coaches: Amber. She's a twin (her twin brother has a different birthday!), a former tomboy and WNBA hopeful, and University of Washington trackster turned Nutella loving fitness model. She's passionate about travelling, backpacking with her husband Luke, and watching movies with her pup in her "I-don't-want-anyone-to-know-I-own-these" sweats.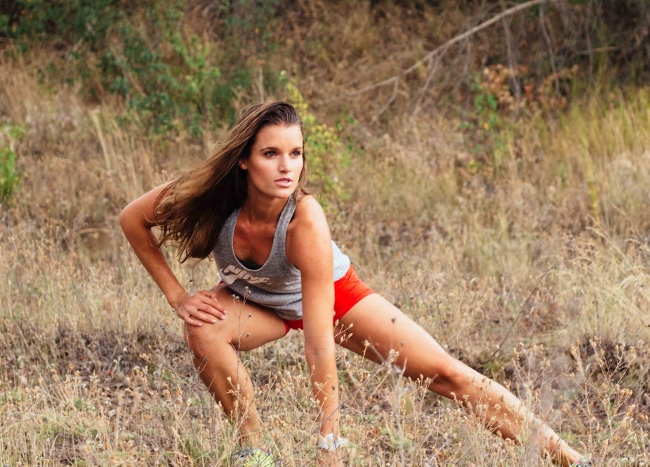 Amber grew up in Seattle playing multiple sports with her two brothers. When the boys starting chasing her, she realized she could outrun them. In high school she found her stride on the track, winning a few state titles and being recognized by the University of Washington. While studying Sociology at UW, she focused on track and a handsome gentleman named Luke. She says she wasn't a "shining star" on the track team but was known as the hardest worker, best teammate, and managed to make all the best relay teams. She also worked hard at conveniently being at all the places her now-husband Luke liked to hang out. In short, Amber works hard for what she is passionate about.
Amber loves everything and anything fitness, and has worked as a fitness model. She takes her training seriously and hopes to help women find beauty and happiness in their own strength. When coaching others, she gets the greatest effort out of people by making them feel comfortable with being a little uncomfortable. She's not much of a yeller, unless she needs to be, but encourages people with a gentle push over the edge. She stresses good work ethic to those she trains and strives to bring the best out of people. At Farmgirlfit she plans to continue the trend of valuing individual growth and perfecting form one day at a time.
When Amber isn't training she enjoys ditching the cellphone and calendar to go backpacking with her husband Luke. They have big plans to hike the Swiss Alps, drink wine in France and Italy and experience as much of the world as possible.
We are happy to have Amber at Farmgirlfit Cd'A! Amber claims that when she first moved to Spokane she felt a little lonely and was looking for a community to connect with. When introduced to Farmgirlfit by her former University of Washington track-mate and FGF member Falesha, she immediately knew it was where she belonged. We look forward to working out with Amber and learning from her perspective in the fitness industry. We also look forward sharing the occasional spoonful of Nutella and glass of wine with her over discussions of Farmgirlfit.
---
To stay in the loop, subscribe to FGF Stories & Info. Or, if you are interested in joining Farmgirlfit Cd'A when we open the doors this Fall, check out how you can become a Founding Member here.